Misty River Romance #3

Guilt has defined Luke Dempsey's life, but it was self-destructiveness that landed him in prison. When his friend and fellow inmate lay dying shortly before Luke's release, the older man revealed he left a string of clues for his daughter, Finley, that will lead her to the treasure he's hidden. Worried that she won't be the only one pursuing the treasure, he gains Luke's promise to protect her until the end of her search.
Spunky and idealistic, Finley Sutherland is the owner of an animal rescue center and a defender of lost causes. She accepts Luke's help on the treasure hunt while secretly planning to help him in return–by coaxing him to embrace the forgiveness he's long denied himself.
As they draw closer to the final clue, their reasons for resisting each other begin to crumble, and Luke realizes his promise will push him to the limit in more ways than one. He'll do his best to shield Finley from unseen threats, but who's going to shield him from losing his heart?
Samples of Audiobook
Quotes From the Book
Feel free to share these on social media!
Video
Excerpt
Click here to read an excerpt
Inside Scoop
Click here for an interview with Turn to Me's cover models
Click here for behind-the-scenes photos of the cover shoot
Click here for information on the inspiration behind the Misty River series
Click button below to visit Turn to Me on Goodreads and add it to your "Want to Read" shelf

Listen to Turn to Me's playlist on Spotify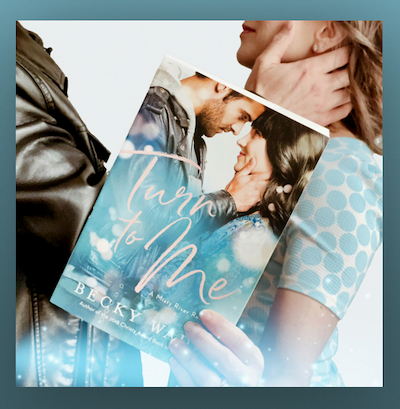 The Reel Bookery compiled every song mentioned in the novel into a playlist! You can listen here!
Click to Tweet
What people are saying about Turn to Me
"Turn to Me is perfection. Heartwarming, hilarious, swoonilicious perfection. I don't have enough stars to give it to properly express how much I love it. This is a story that, as soon as I turned the last page, I wanted to hug it and then go back and read it all over again" Carrie, Reading is my Superpower
"Two romances for the price of one! Add some danger to the mix and you'll find the recipe for the perfect book!" Diana, GoodReads
"The simmering and smoldering romance made this downright delicious!" Kate, GoodReads
"Oh my goodness, what a completely wonderful story!" Jeanne Alfveby Crea, GoodReads
"They're a perfect lobster pot couple, goners before they realize the heat got turned up!" – Jaycee Weaver
Pinterest Board

Click here to visit the Pinterest board for Turn to Me