Porter Family Novel #1


When Meg Cole's father dies unexpectedly, she becomes the majority shareholder of his oil company and the single inheritor of his fortune. Though Meg is soft-spoken and tenderhearted — more interested in art than in oil — she's forced to return home to Texas and to Whispering Creek Ranch to take up the reins of her father's empire.  The last thing she has the patience or the sanity to deal with? Her father's thoroughbred racehorse farm. She gives its manager, Bo Porter, six months to close the place down.
Bo's determined to resent the woman who's decided to rob him of his dream. But instead of anger, Meg evokes within him a profound desire to protect. The more time he spends with her, the more he longs to overcome every obstacle that separates them — her wealth, his unworthiness, her family's outrage — and earn the right to love her.
But just when Meg begins to realize that Bo might be the one thing on the ranch worth keeping, their fragile bond is viciously broken by a force from Meg's past. Can their love, and their belief that God can work through every circumstance, survive?
Excerpt
Click here to read an excerpt!
Quotes from the book
Feel free to share these on social media!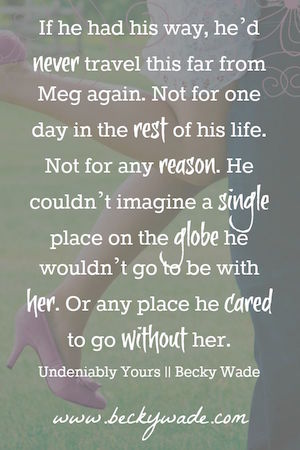 Inside scoop
Click here to read an interview with the cover models
Click here for information on the inspiration behind Undeniably Yours
Video
Click the button below to visit Undeniably Yours on Goodreads and add it to your virtual shelves

Click to tweet
What people are saying about Undeniably Yours

*Named the winner in the romance category of the Carol Award, given by American Christian Fiction Writers in recognition of outstanding Christian fiction.
*Named the winner of the long contemporary romance category of the Inspirational Reader's Choice Award.
"I wasn't ready for this story to end, but when it did, I sighed the happy/longing sort of sigh that romance readers know so well, as in: "I'm so sorry that it's over, but … ahhh. I'm so very satisfied." Definitely one for the keeper shelf!" – Serena Chase, USA TODAY
"Wade's series starter is an enthralling story of overcoming challenges and trusting God. How Meg deals with her anxiety is inspiring. When she meets Bo, he lends her the confidence she needs to battle her insecurities. They are a couple you'll be rooting for to have their Texas fairy-tale ending." – RT Book Reviews
Pinterest board

Click here to visit the Pinterest board for Undeniably Yours
Save
Save
Save