Kate Donovan is burned out on work, worn down by her dating relationships, and in need of an adventure. When her grandmother asks her to accompany her to Redbud, Pennsylvania, to restore the grand old house she grew up in, Kate jumps at the chance.
Upon her arrival in Redbud, Kate meets Matt Jarreau, the man hired to renovate the house. Kate can't help being attracted to him, drawn by both his good looks and something else she can't quite put her finger on. He's clearly wounded–hiding from people, from God, and from his past. Yet Kate sets her stubborn heart on bringing him out of the dark and back into the light… whether he likes it or not.
When the stilted, uncomfortable interactions between Kate and Matt slowly shift into something more, is God finally answering the longing of her heart? Or will Kate be required to give up more than she ever dreamed?
Excerpt
Click here to read an excerpt!
Quotes from the book
Feel free to share these on social media!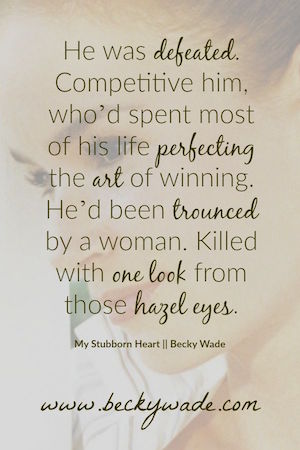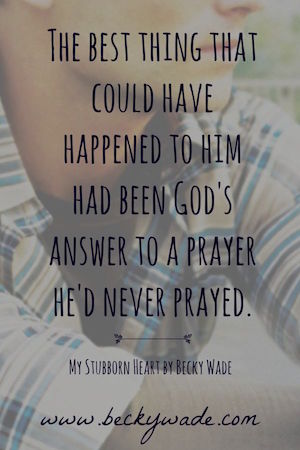 Inside scoop
Click here for information about the inspiration behind My Stubborn Heart
Video
Click the button below to visit My Stubborn Heart on Goodreads and add it to your virtual shelves

Click to tweet
What people are saying about My Stubborn Heart

*Finalist in the inspirational category for a RITA Award, given by Romance Writers of America for excellence in romantic fiction.
*Shortlisted in the romance category for the INSPY Award, the bloggers' award for excellence in faith-driven literature.
"I have to admit this story had me hook, line, and sinker. I couldn't stop reading. I knew it was bad when I caught myself ordering quickly at a restaurant so I could sneak in a few pages before the food arrived — on date night with my husband." -Misha Enriquez, thecrhristianmanifesto.com
"Wade creates a charming setting amidst a lively bunch of seniors, making My Stubborn Heart more than just a romance. In scenes of laugh-out-loud humor, home renovation reflects a renovation of hearts. Readers will enjoy getting to know each of the other characters as they root for Kate and Matt to overcome obstacles on their way to love." -Booklist
Pinterest board
Click here to visit the Pinterest board for My Stubborn Heart
Save
Save