Misty River Romance #2

The one woman he wants is the one he cannot have.
Former foster kid Sebastian Grant has leveraged his intelligence and hard work to become a pediatric heart surgeon. But not even his career success can erase the void he's tried so hard to fill. Then he meets high school teacher Leah Montgomery and his fast-spinning world comes to a sudden stop. He falls hard only to make a devastating discovery — Leah is the woman his best friend set his heart on months before.
Leah's a math prodigy who's only ever had one big dream—to earn her PhD. Raising her little brother put that dream on hold. Now that her brother will soon be college bound, she's not going to let anything stand in her way. Especially romance… which is far less dependable than algebra.
When Leah receives surprising results from the DNA test she submitted to a genealogy site, she solicits Sebastian's help. Together, they comb through hospital records to uncover the secrets of her history. The more powerfully they're drawn to one other, the more strongly Sebastian must resist, and the more Leah must admit that some things in life—like love—can't be explained with numbers.
Quotes from the book
Feel free to share on social media!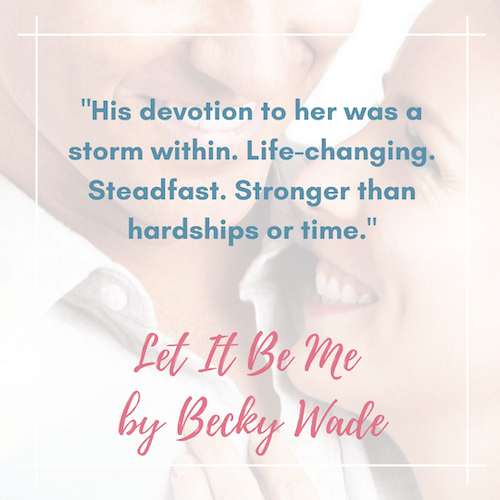 Inside Scoop
Click here for an interview with Let It Be Me's cover models
Click here for behind-the-scenes photos of the cover shoot and runner-up covers
Click here for information on the inspiration behind the Misty River series
Video
Click button below to visit Let It Be Me on Goodreads and add it to your virtual shelves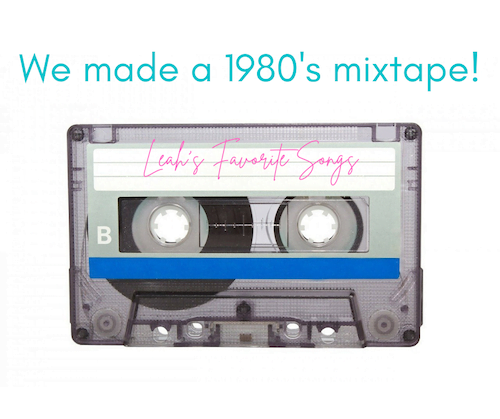 Leah, the heroine of Let It Be Me, loves 1980's music! We asked readers on Facebook to name their favorite 80's songs and then my friend Amy compiled them into an amazing playlist! You'll find the playlist on Apple Music here and on Spotify here.
Click to tweet
What people are saying about Let It Be Me
*Finalist in the Faith, Hope, and Love Readers Choice Award
*Finalist in the Kipp Book Award

"Wade's most powerful work yet" – Publishers Weekly
"Ready for a swoon-worthy romance with sass and banter? Becky Wade delivers" -Kim Wong, Inside the Wong Mind blog
"Wow, this is a compelling read! Don't miss it!!" -Melissa Romine, Melmo2610 A Bookish Blog
"Let It Be Me… is guaranteed to be a hit with fans of contemporary romance." -Nicole Cook, Inkwell Inspirations
"WOW! WOW! WOW! Let It Be Me is an amazing story. Honestly, Let It Be Me has it all in my book." -Becky Boerner, Becky's Bookshelves Blog
"Let It Be Me grabbed my heart from the start and still hasn't let go! Truly swoon-worthy reading!" -Necee Lomelino, Relz Reviewz
"…it was wonderful, touching, inspiring and unpredictable." -Ebos, Batya's Bits blog
Pinterest Board
Click here to visit the Pinterest board for Let It Be Me