Porter Family Novel #3


Former Marine Jake Porter has far deeper scars than the one that marks his face. He struggles with symptoms of PTSD, lives a solitary life, and avoids relationships.When Lyndie James, Jake's childhood best friend, lands back in Holley, Texas, Jake cautiously hires her to exercise his Thoroughbreds. Lyndie is tender-hearted, fiercely determined, and afraid of nothing, just like she was as a child. Jake pairs her with Silver Leaf, a horse full of promise but lacking in results, hoping she can solve the mystery of the stallion's reluctance to run.
Though Jake and Lyndie have grown into very different adults, the bond that existed during their childhood still ties them together. Against Jake's will, Lyndie's sparkling, optimistic personality begins to tear down the walls he's built around his heart. A glimmer of the hope he'd thought he'd lost returns, but fears and regrets still plague him. Will Jake ever be able to love Lyndie like she deserves, or is his heart too shattered to mend?
Excerpt
Click Here to read an excerpt!
Quotes from the book
Feel free to share these on social media!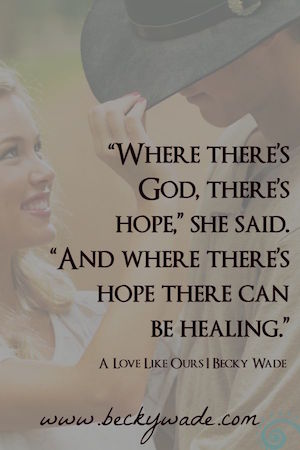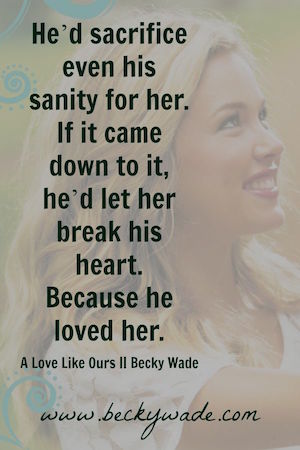 Inside scoop
Click here to see behind-the-scenes photos of the cover shoot
Click here to read interviews with the models
Videos
Click the button below to visit A Love Like Ours on Goodreads and add it to your virtual shelves

Click to tweet
What people are saying about A Love Like Ours
*Named a finalist in the inspirational category for a RITA Award, given by Romance Writers of America for excellence in romantic fiction.
*Made the shortlist in the romance category for the INSPY Award, the bloggers' award for excellence in faith-driven literature.
"Wade seamlessly blends threads of courage, sacrifice, hope, and family loyalty together with a double-dose of romance and a dash of "Seabiscuit"-style action to create a swoonworthy story that will leave you both cheering and weeping for joy. An absolute must read!" -Amy Drown, Fiction Editor for The Christian Manifesto
"Filled with genuine emotion and overflowing with positive examples of faith, the story captures the imagination while warming the heart." – Publishers Weekly, Starred Review
Pinterest board
Click here to visit the Pinterest board for A Love Like Ours
Save
Save
Save
Save
Save
Save