Porter Family Novel #2


Ty Porter has always been irresistible to Celia Park. All through high school–irresistible. When their paths cross again after college– still irresistible. This time, though, Ty seems to feel exactly the same way about Celia. Their whirlwind romance deposits them at a street-corner Las Vegas wedding chapel.The next morning they wake to a marriage certificate and a dose of cold reality. Celia's ready to be Ty's wife, but Ty's not ready to be her husband. He's a professional bull rider, he lives on the road, and he's long planned to settle down with the hometown girl he's known since childhood.
Five and a half years pass. Celia's buried her dreams so that she can afford to raise her daughter. Ty's achieved all of his goals. Or thought he had, until he looks again into the eyes of the woman he couldn't forget and into the face of the child he never knew he had.
How much will Ty sacrifice to win back Celia's trust and prove to her that their spontaneous marriage can still become the love of a lifetime?
Excerpt
Click here to read an excerpt!
Quotes from the book
Feel free to share these on social media!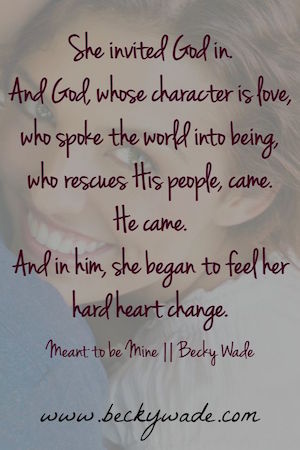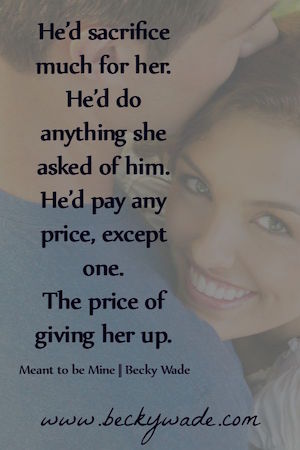 Inside scoop
Click here for behind-the-scenes photos of the cover shoot
Click here to read interviews with the cover models
Click the button below to visit Meant to Be Mine on Goodreads and add it to your virtual shelves

Click to tweet

What people are saying about Meant to Be Mine

*Winner of the contemporary romance category of the INSPY Award, the bloggers' award for excellence in faith-driven literature.
*Winner of the long contemporary romance category of the Inspirational Reader's Choice Award.
*Finalist in the inspirational category of the National Reader's Choice Award.
"Allow me to introduce you to Ty Porter. He's a contemporary cowboy with a taste for fun, a definite soft spot, a solid brain, and a few surprising talents you might not expect from a career rodeo man. Consider him drool-worthy. I certainly do."
-Serena Chase, USA TODAY
"Fans of a hard-won sweet romance will love Meant to Be Mine. Readers will enjoy the development of the characters as their story leads them on a path where, with patience and faith, love is meant to be. With an uplifting and real tale, Wade is an author who writes from the heart." – RT Book Reviews
Pinterest board

Click here to visit the Pinterest board for Meant to Be Mine
Save